Course Description
The BCBSNC Raleigh City of Oaks Marathon, UNC REX Healthcare Half Marathon, CPI Security 10k and Delta Acorn 5k are USATF-sanctioned events and USATF-certified courses, and the marathon is a Boston Marathon qualifier.
The race courses were designed to showcase many of the focal points of the city, including Fayetteville Street and the State Capitol Building in downtown Raleigh, the Glenwood South restaurant district, Meredith College, NC State University, and the NC State Bell Tower. The courses show the diversity of Raleigh's landscape, from modern city to wooded trails with a lakeside setting. Marathon runners will also be treated to a run on the Capital Area Greenway system.
The Raleigh City of Oaks Marathon and UNC REX Healthcare Half Marathon run together for the first 11 miles. Marathoners then head onto the Capital Area Greenway at Meredith College, while half marathoners continue onto Hillsborough Street u-turning at I-440 and returning to the Bell Tower via Hillsborough Street.
Marathoners continue on an out-and-back route which includes the House Creek Greenway. They continue on past Crabtree Valley Mall towards Shelley Lake before heading back the same way.

For a list of suggested locations for spectators to stand, click here!

We're excited to offer live tracking with RaceJoy! For more details on how your friends and family can track you on race day click here!

Aid Stations
Water and Amino VITAL Pro-E will be provided at all aid stations, except at mile 8, which will be water only. Please click here for more information on our Official Sports Drink, Amino VITAL, and how to get a free sample of the Pro-E drink at Inside Out Sports in Raleigh (8111 Creedmoor Road). Assorted GU flavors will be available at aid stations beyond mile 11. Please help us keep the greenway clean by not dropping your GU tabs on the ground. Fruit and nutritional treats will be provided at the North Hills water stop on the marathon course, and wet washcloths will be provided at the Crabtree Valley Mall water stop on the marathon course.
Aid Station Locations:
Half Marathon: Miles 2.0, 4.3, 7.0, 8, 9.5, 11.5.
Full Marathon: Miles 2.0, 4.3, 7.0, 8.0, 9.5, 12.5, 13.7, 14.7, 16.5, 18.5, 20.0, 21.5, 22.5 and 24.5.
10k: Miles 2.0 and 4.3
5k: Miles 2.5
Click each map image below to view a larger version of the map.

2017 City of Oaks Full Marathon Course Map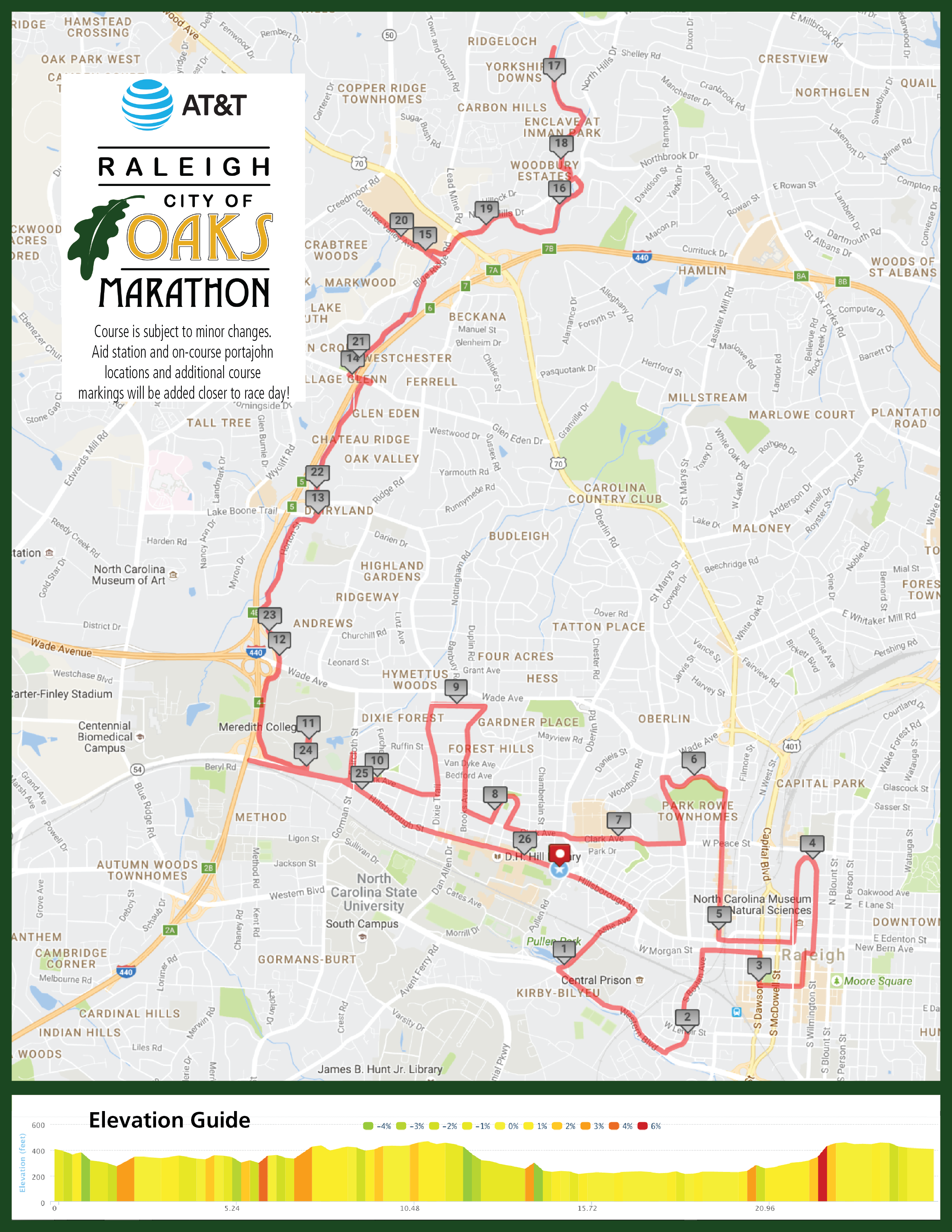 2017 UNC REX Healthcare Half Marathon Course Map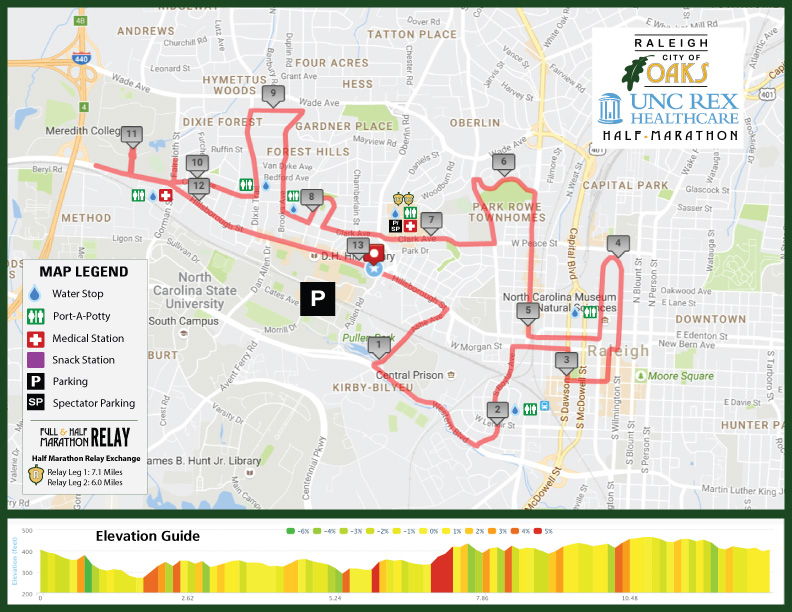 2016 CPI Security Old Reliable 10k Course Map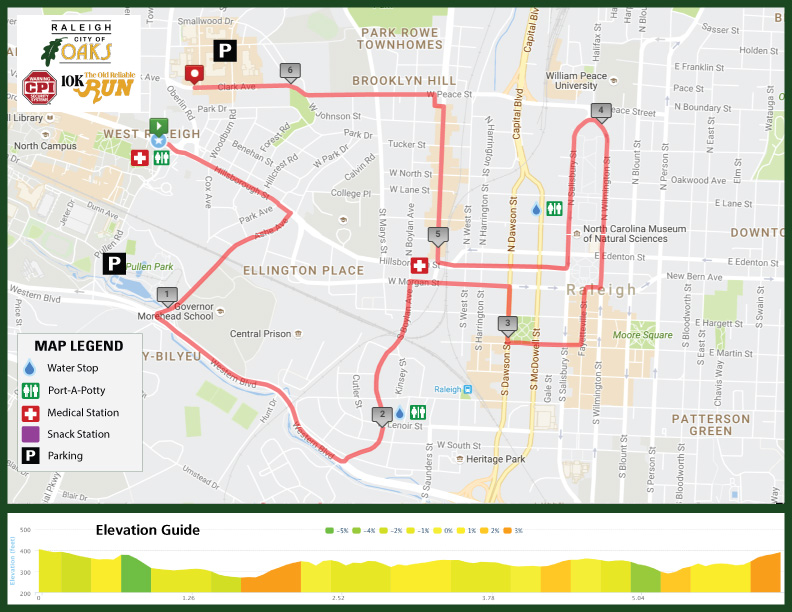 2016 Delta Acorn 5k Course Map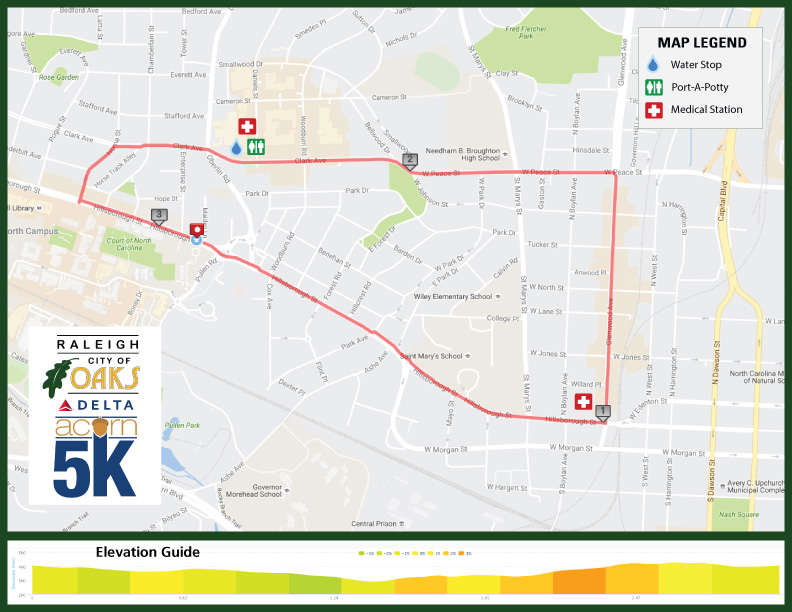 2016 Kids' Mile Course Map